To get to the starting car park in the Manchet valley:
By car:
From Bourg-Saint-Maurice (52km from Albertville), follow the D902 in the direction of Tignes and Val-d'Isère, i.e. driving time:
    1h45 from Albertville
    45 minutes from Bourg-Saint-Maurice
In Val-d'Isère: at the roundabout of the tourist office, turn right and follow "Vallée du Manchet". Park at the start of the Manchet Express chairlift (the road is closed to traffic after the car park).
In soft mobility :
For public transport in Savoie consult : mobisavoie.fr
You can arrive by train at Bourg Saint Maurice station, then take the bus to Val d'Isère.
Think smart, think carpooling!
On foot :
Image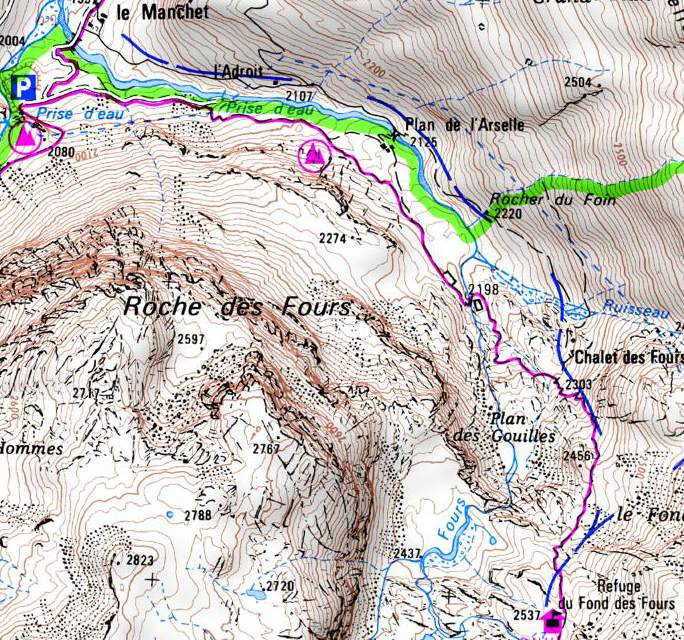 From Val d'Isère: 1h50 walk and 550 m of positive difference in altitude!

Take the track at the end of the car park (from the Manchet Express chairlift), go round the hamlet of Le Manchet to the right, cross the wooden bridge until you see the Vanoise National Park information panels, then follow the signposted path to the left. The refuge is discovered at the last moment.

IGN map TOP 25 series n°3633ET
From the Pont de la Neige on the Col de l'Iseran road, on the Maurienne side:

Park at the "Pont de la Neige" car park, 236m lower. Then pass the Col des Fours (2976m) and go down to the refuge. It takes about 3 hours of walking. You are on a variant of the GR5 and you will cross one of the highest passes in the Alps. From the col des Fours you can easily reach the pointe des Fours in 30 minutes. It culminates at 3072m, panorama guaranteed!
Image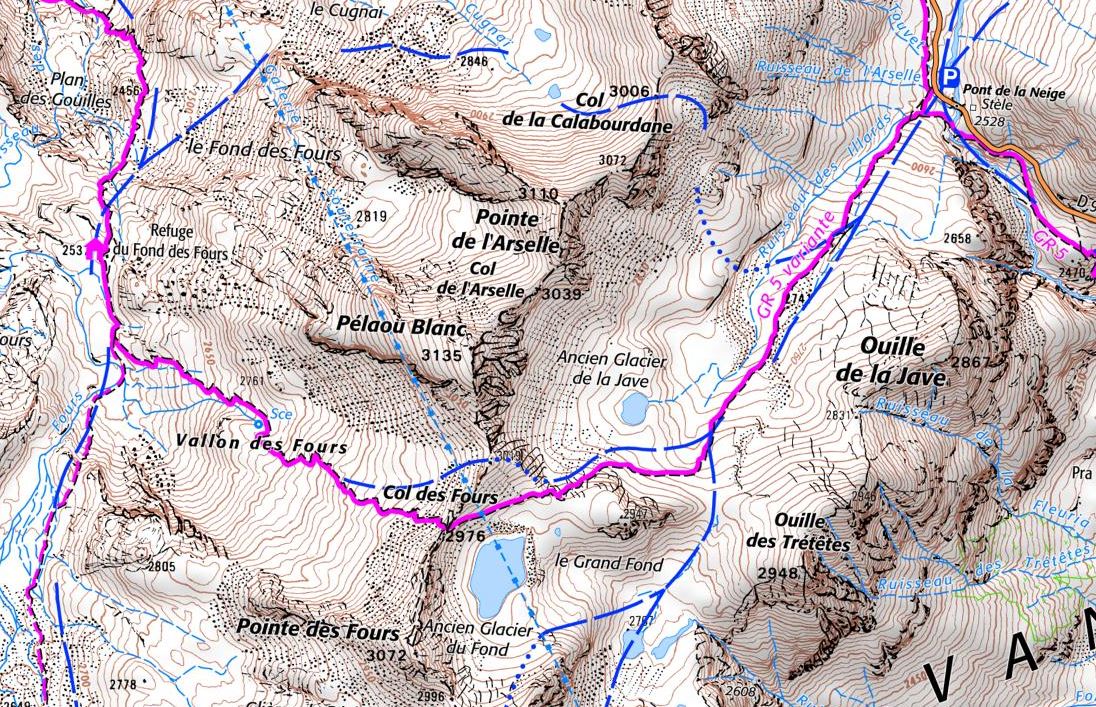 To ski :
By using the ski lifts (ask for the hiker's pass):
    The fastest: you arrive at the refuge in 1h15, with 100 meters of positive difference in altitude on ski touring and a beautiful off-piste. Go through the SOLAISE lifts, then GLACIER and finally CUNAIL, then switch to off-piste skiing (be careful, you are in the heart of the park, please respect the regulations). It is essential to have the appropriate safety equipment and technical skills.
    The best part: you reach the refuge in 3 hours via the Col de l'Iseran. Take the FORNET and VALLON ski lifts then go down off-piste to the Pont de la Neige. Put on your skins, count on a 400 m positive difference in altitude and 1h30 of ascent to cross the Col des Fours and let yourself slide down to the refuge.
    The most sporty, "Without taking the ski lifts": from Val-d'Isère (Manchet valley), park at the P7 car park in Val d'Isère (PAYING). With skins or snowshoes it takes about 2h30 to reach the refuge.